SCRIP Fundraising Program
What Is SCRIP?
SCRIP is a term that means "substitute money". When you purchase scrip, you're purchasing negotiable gift certificates and prepaid cards that are used just like cash. You can use scrip to purchase everyday expenses like food, clothing, and other essentials, and with every purchase, you earn revenue for our organization. Currently, funds go toward our Outreach Ministry programs.
How SCRIP generates revenue for you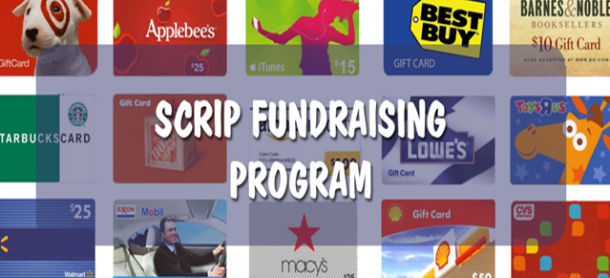 The Great Lakes SCRIP Center acts on behalf of churches, schools and other non-profit organizations to purchase large amounts of SCRIP from grocery stores, department stores, and other retailers. Because the SCRIP is purchased with cash up front, the participating retailers offer a substantial discount. Our organization buys the scrip from Great Lakes SCRIP Center at a discount, and re-sells the certificates to families like yours for full face value. The discount – from two to fifteen percent or more – is our organization's revenue.
SCRIP is "shopping cart fundraising"
SCRIP is a popular fundraiser because families don't have to sell anything. SCRIP participants produce revenue by making regular household purchases they would make anyway. Groceries, clothing, toys, gifts, even gasoline can be purchased with scrip.
How to order SCRIP
Celebration Church is now able to offer the convenience of Online Payments for SCRIP. We do encourage you to purchase with check payment to allow the full benefit of the program to help our Outreach Program and not have to pay for service fees.
Payment by Check: Print the SCRIP Order form below and mark which gift cards you would like to order. Total up your order and write that in the top portion of the order form. Turn in your check for the amount of the order, with the order form to Lyn Seeman on order dates.
Online Payment of SCRIP
Payment Online: Print the SCRIP order form below, and mark which gift cards you would like to order. Total up your order and write that in the top portion of the order form. You can then click on the SCRIP Credit Card Payment button which will take you to the Paypal secure payment page. PRINT your payment receipt and place in the envelope with your order and turn in to Lyn Seeman on order date.
Please Note: CFC will be charged a 2.2% of the donation + $.30 per transaction processing fee on all online payments or donations. For example a order of $100 will incur at $2.50 fee that will take away from the full donation of profits for our local Outreach programs.At this time we do not have the option for you to automatically have the fee added to your donation to help offset the cost of this convenience.